Business Cards have always been a very important weapon in your business arsenal. It will form the first point of contact with your customer, and because of this fact, you need to make a lasting and favourable impression. If you require a quote for any stationery jobs, please feel free to contact us at any time.

SerenArts are able to offer high quality full colour business cards at very competitive rates. Employing the latest design and digital printing technology, our cards are printed on quality 350gsm card to ensure they convey a superior and professional message.


PLEASE NOTE THAT THE PRICES QUOTED AT SERENARTS ARE ALL INCLUSIVE... THERE ARE NO EXTRA CHARGES FOR POSTAGE, PACKING ETC.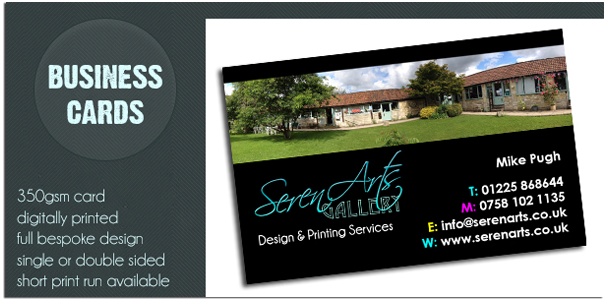 If you would like us to design your card free of charge please go straight to the payment and let us know your requirements.
To place your order for business cards simply follow this two step procedure...